A Sign Of The Times
Jefferson Airplane had just landed a couple years prior to their appearance on American Bandstand. They were the first band to make it big out of San Francisco. The band defined and established the psychedelic "hippie" sound. It might be possible that their shock factor was part of the reason Dick Clark chose to interview them prior to their American Bandstand performance in 1967.
Unfortunately, the television host was at a loss for words or questions. Grace Slick giggled at the baffled Clark as he asked the biggest questions on the establishment's mind. The tide was changing and the "hippies" were gaining more dominance over the masses of young people across the world. There is a lot of symbolism in this short and awkward interview.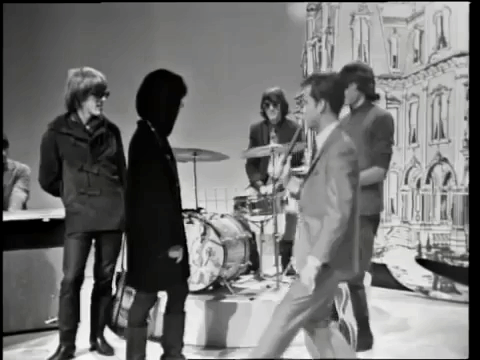 The Big Divide
Dick Clark frets mostly about time during the interview but manages to squeeze out some actual conversation with Jefferson Airplane. Grace Slick starts by introducing the band. Clark's anxiousness gives Slick jitters and she nearly forgets keyboardist and founding member's name,  Marty Balin. Clark confirms that there is only one and a half minutes to finish the entire interview. Relax, Clark! He asks front-woman Grace why she thinks that their band made it big and she responds, "Well, I think it's because promoters finally gave us freedom to write our own material." Then he rushes to the next bandmate, guitarist Paul Kantner.
"Older people worry. They see the way you're dressed, they hear your music,
they don't understand it. Do parents have anything to worry about?," questions Clark.
Kantner responds, "I think so. Their children are doing things that they didn't do and they don't understand. "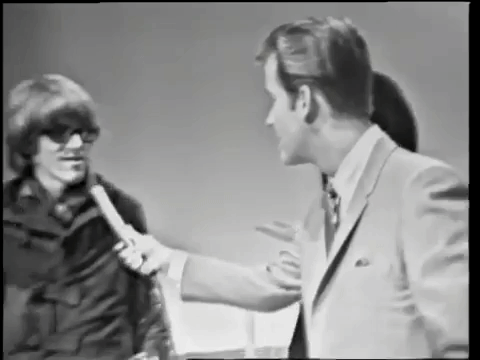 Dick Clark wraps up the interview quickly just before drummer, Spencer Dryden jams into their performance. Safe to say, American Bandstand wasn't the same after this.