"The Jimi Hendrix Experience Is Over."
On September 18th, 1970 the world awoke without Jimi Hendrix in it for the first time in 27 years. He'd died early that morning and was found in bed at his girlfriend Monika Dannemann's flat at Notting Hill's Samarkand Hotel, the victim of an apparent death by barbiturate overdose.
---
---
By the time the rest of the world had woken up that Friday morning, news outlets were flooded with the news of Hendrix's untimely death at the age of 27 with reports coming in from all over the world, each one summarizing Jimi's brief life and meteoric rise to fame. The one that sticks out the most clearly in our minds, however, is the report from ABC News.
---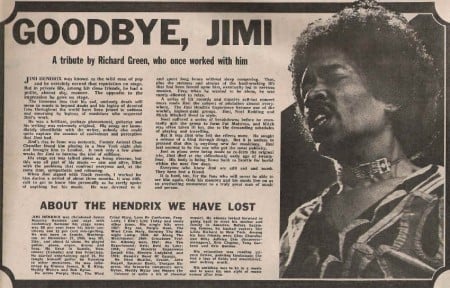 ---
It began with a terse "The Jimi Hendrix Experience is over" from the news anchor as the words "Jimi Hendrix: 1943 – 1970" flashed across the screen in big bold letters before giving way to field reporter Gregory Jackson who described Jimi as a 'loud voice on the radio' for the over 30 crowd and 'an astonishing performer whose onstage gyrations could make Elvis Presley look like a gym teacher'.
In a year where we've seen more news reports announcing the deaths of some of rock's best and brightest, it's interesting to look back on how news outlets reported the death of one of rock and roll's most celebrated figures – if Jimi had died today instead of in 1970, there's no doubt that there would have been wall to wall media coverage of his passing, complete with tributes from friends, fans and relatives, MTV blocks of his greatest work, and candlelight vigils held all over the world. Check it out in the video below!