Malcolm Young Talks Robert Plant And Led Zeppelin
One of the things we'll always miss most about Malcolm Young is his ability to get to the point – quickly. Never one to mince words or BS folks to spare feelings, Mal's no nonsense approach to everything he did in life is nearly as famous as the guitar licks he came up with, and takes center stage in what quickly became one of our favorite stories about the late legend.
As Classic Rock Magazine writer Mark Blake tells it, Mal was a tough nut to crack when the two sat down for a phone interview in 1992. The experience was as uncomfortable for Malcolm as it was for Mark, but things took a turn when he recalled the time he and Angus went to see Led Zeppelin play. The Young brothers reportedly "left after a couple songs," but before Mark could ask him to elaborate, Malcolm beat him to the punch:
"Singer was a blond feller," he said, dismissively. "Bit of a poser."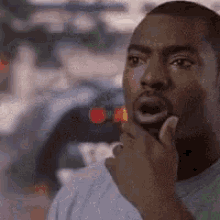 That's…one hell of a way to describe Robert Plant.
We'll never know if Mal wound up jumping on the Zeppelin train in later years, but we'd like to think that after seeing what they accomplished with Robert Plant, a healthy respect grew there.
I mean…how could you not respect a band that can do this:
…or this:
However, something tells us that it's only a pipe dream!