This Is Gonna Warm Your Heart… And Make You Wanna Rock Out!
One of the greatest things about metal music is the fact it's truly all inclusive. No matter who you are or where you're from, metal music is the music for everyone. Seriously, if you were to go to a metal concert and just look around, you'll find people from all walks of life. People of different gender, color, and religion all coming together to rock out in harmony, it's a truly wonderful thing to see!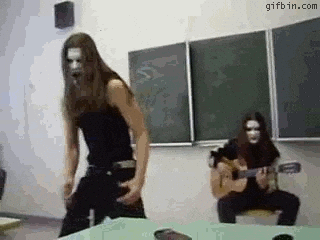 This much was evident at a recent Slayer show in Nampa, Idaho where a concert goer named Tina Granger actually brought her wheelchair-bound Mother-in-Law with her to the show. Not only that, but her Mother-in-Law actually got a chance to get in the mosh pit, but here's where it gets awesome…
As you'll see in the video below, fellow fans actually helped protect her and pushed her wheelchair around as she lived out her dream and rocked out with her fellow metal-maniacs!
This is the coolest thing you'll see all day – see for yourself!