It Was An Encore Performance
No matter how many times you see or hear a Jimmy Page guitar solo, you are still amazed. It doesn't matter what he does- it works. Whether he's supporting the band or commanding the stage himself, his presence is always admired. Time has not phased Jimmy Page either- he is a timeless icon.
Led Zeppelin performed a classic set at the Knebworth Festival in 1979. This was Robert Plant's first show after the death of his son. Crowds flocked to see Led Zeppelin again after their short break from performing. The band certainly gave the come-back show their all. After an overwhelming demand from the audience, Led Zeppelin began their encore performances. What followed after the first encore was absolutely surreal.
It's What Rock Dreams Are Made Of
After an insane set list and the start of their first encore, the band fuses into "Heartbreaker." Roger Plant makes his iconic joke about there being no tracks left to sing and the audience hangs on every word, "We've run outta numbers! No! Only joking!" They certainly did not run out of music- and if they had, it wouldn't be a problem at all for Jimmy Page. He is an improv kind. Especially when it comes to solos.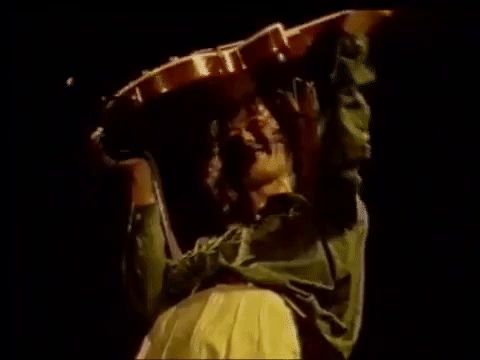 Jimmy Page fused into "Heartbreaker" during the second encore. He was animated, he was raw, he was vigorous. He was exactly what the song was. The entire solo was improvised. Page strung together rough edged rockabilly riffs with insanely technical flows. He really just did what only he can do- make the impossible look effortless. Of course, once "Heartbreaker" ended… the crowd demanded a third encore.
Work so hard I couldn't unwind, get some money saved;
Abuse my love a thousand times, however hard I tried.
Heartbreaker, your time has come, can't take your evil way;
Go away, heartbreaker.