For Whom Do The Bells Toll For Exactly? 
I have a feeling this man knows every word of Metallica's "For Whom The Bell Tolls." I'm not sure if the band members of the heavy metal band had a specific audience this song was written for, but no one is feeling the lyrics more than this grandpa. The bells will not be tolling for him any time soon judging by his adrenaline filled jam sesh. Fist in the air, head-swaying like a metronome, and stereo blasting- this man knows how to rock. Whether he has been a Metallica fan since day 1 or whether he just discovered the jammer recently, this dude is admirably old school cool.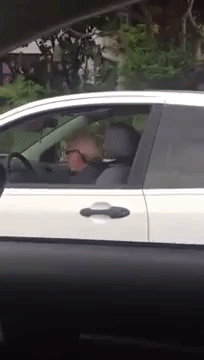 Time Marches On
There are some people who claim to be heavy metal for life and there are some people who mean it. Grandpa here is no poser. He has the fiery depths of hell burning deep inside and  has no choice but to remind us all how hardcore he actually is. I see my future in this YouTube video and I would welcome the opportunity to head bang to Metallica till my last day. Age is just number and heavy metal is eternal.Whoever recorded this video knows exactly what I'm talking about. Rock on, grandpa!