A Roaring Sea of Thunder
The concert was by far among the most unforgettable experiences that any of the attendants ever imagined possible. The entire crowd of over 200 thousand is completely synchronized to the rhythm of "Highway to Hell" as they jump in unison- creating a massive wave. This wave of people was way to gnarly to crowd surf– it would have swallowed the band to it's depths! The Argentinian fans rocked as hard as possible. AC/DC didn't just melt their faces off, they fused the entire stadium together as the fans fused together in a wave of lava!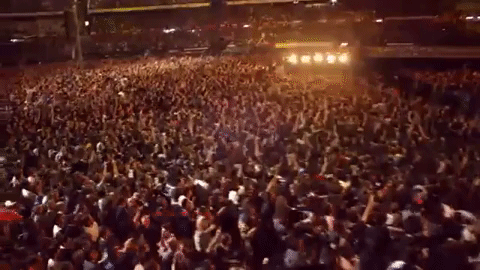 Don't need reason, don't need rhyme
Ain't nothing I would rather do
Going down, party time
My friends are gonna be there too
No lighters necessary…
"Those devil horns are hugely popular because everyone can relate to Angus' moment in the show when he puts his on. And it looks fantastic from the stage, all those blinking red lights," said AC/DC promoter Garry Van Egmond.
Argentina Ablaze
Only AC/DC could cram 200 thousand fans into the Argentinian football club, River Plate. In December of 2009, 32 HD cameras filmed the Australian rock band during their Buenos Aires leg of the Black Ice World Tour. The track list included 19 of their most successful hits including "Highway to Hell."  Originally released in 1979, the jam was ignited with a complete new life for the hundreds of thousands of fans clad in flashing devil's horns. No stop signs, speed limit!